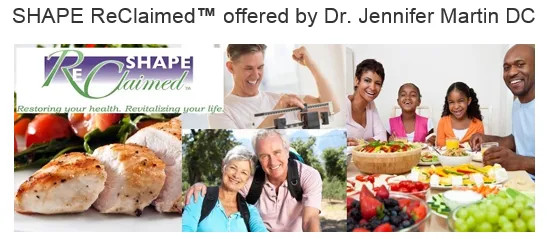 SHAPE ReClaimed™ Benefits:
 Reduce Inflammation
 Enhance Immune Function
 Detox & Cleanse
 Enhance Metabolism
 Safely Release Excess Toxic Weight
 Decrease Pain
 Improve Digestion
 Increase Energy
 Improve Sleep
 Decrease or Eliminate Rx Dependency (With Practitioner Supervision)
 Improve Blood Sugar, Blood Pressure and Blood Lipids
 Improve Mood and Mental Clarity
 Create and Maintain a Healthy Relationship with Food
SHAPE ReClaimed™ Features:
 Lifestyle Modification - Health Restoration Program
 Healthy Anti-Inflammatory Nutritional Plan
 SHAPE ReClaimed™ Professional Formula
 The Complete Patient Guidebook
 Consistent Monitoring Appointments for Urine Evaluation
 Patient Education Tab at WWW.SHAPERECLAIMED.COM
 Access to Facebook "OFFICIAL SHAPE ReClaimed™ Support Group"
 Safe, Affordable and Sustainable Lifestyle that Supports Healthy Weight

EXTRAORDINARY RESULTS IN A PRACTITIONER-MONITORED PROGRAM
HOW DO I GET STARTED ON THE SHAPE ReCLAIMED PROGRAM WITH DR. JENN?
Dr Jenn starts with an introductory phone consultation to evaluate your needs.
Click this link to fill out the Client Health History form and Submit.
You will receive a Wellness Program binder with a Patient Guidebook, Daily Food Log, Tracking Your Progress sheet, Urinalysis Instructions and UA Strips, additional information about the SHAPE ReClaimed program, a bottle of pH drops and a bottle of SHAPE ReClaimed™ drops in the mail.
After you have reviewed the materials, text or call Dr. Jennifer Martin DC at 636-443-3476 for your consultation and evaluation.
Everything can be done virtual - over the phone. Dr. Jenn has clients throughout the nation.
This Program is Designed to Improve your Overall Health and Reclaim Vibrant Health.
It is a Lifestyle Modification & Health Restoration Program
that you will use for the rest of your life.
Dr. Jennifer Martin DC
636-443-3476
2480 Executive Drive #207
St. Charles MO 63303
For more information on SHAPE ReClaimed, click the button below.
Disclaimer: Independent SHAPE Practitioner's Website is not owned or operated by SHAPE ReClaimed, LLC. Any content outside SHAPE ReClaimed webpage is not acknowledgement or expressed position of SHAPE ReClaimed, LLC.